Brief History
Breadroot Natural Foods Co-op was established in 2000 as a "buyer's club" to make healthy foods readily available, at an efficient cost. By buying together, the foods could be obtained in bulk and then distributed for a lower cost than buying individually. Breadroot's first location was on Columbus St., in Rapid City.
What is a Co-op?
A co-op is a business that is voluntarily owned by the members who use it and that operates specifically for the benefit of its members. You are at the forefront of each of our decisions and
we put your interests first. Co-op members pool resources to bring about economic results that are often unobtainable by one person alone.
Why Co-ops?
When you shop at the Co-op, you're keeping your money in, and supporting the community you live in. You're supporting a business with integrity that builds connections with local farmers,
ranchers, and producers. You're supporting local employment, fair labor standards, and living wages. Investing in a co-op strengthens an alternative business model that believes in putting people and the planet before profit, every day. You're supporting companies who put ethics in the forefront of decision making when producing products. Unlike a large corporation, your co-op is independently operated and our profits are returned to the co-op through store improvements, community giveback, and patronage dividends.
Where We Are Now
Our Co-op currently has around 2,000 active Member-Owners. We are in our fourth location, and are continuing to see rapid growth. If this trend continues, a new, larger location will be in our future.
Breadroot currently employs 29 staff members.
We love local! Many local producers supply us with eggs, meat, bread, honey, wellness items, fruits and vegetables, bulk grains, and coffee. (Member-Owners get 5% off all local purchases!)
Several big updates in the past few years have allowed Breadroot to expand its offerings. These updates include a large produce cooler, walk-in fridge and freezer for back stock, and most recently, an updated point-of-sales system and registers to help automate and speed up checkout.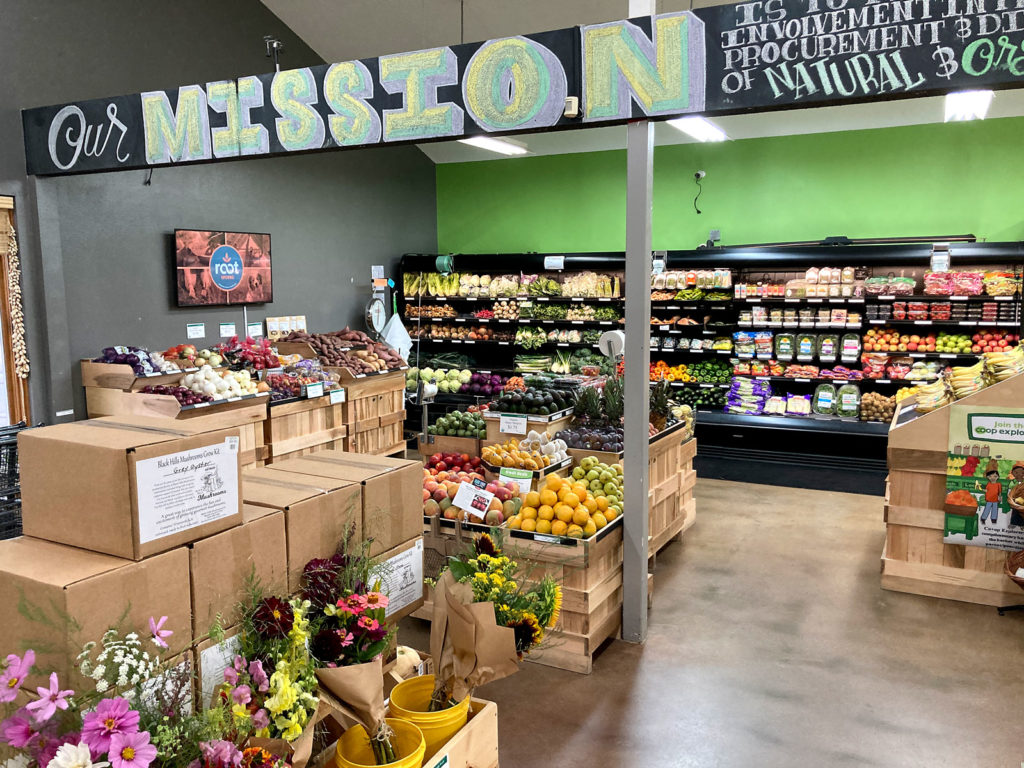 Our Mission
Promote community involvement in the production, procurement, and distribution of natural and organic foods and other goods and services for healthy living. We envision a community strengthened by cooperative economics and driven by concern for the health and well-being of the planet and its inhabitants.
7 Cooperative Principles
1. Voluntary & Open Member-Ownership
Cooperatives are voluntary organizations, open to all people (regardless of gender, social, racial, political, or religious discrimination) willing to use its services and willing to
accept the responsibilities of Member-ownership.
2. Democratic Member Control
Cooperatives are democratic organizations controlled by their Member-owners. Member-owners are shareholders of the company who buy goods, or use the cooperative services, and who actively participate in setting policies and making decisions.
3. Member's Economic Participation
Member-owners contribute equally to, and democratically control, the capital of the cooperative. This benefits Member-owners in proportion to the business they conduct with the cooperative rather than on the capital invested.
4. Autonomy & Independence
Cooperatives are autonomous, self-help organizations controlled by their Member-owners. If the Co-op enters into agreements with other organizations or raises capital from external sources, it is done so based on the terms that ensure democratic control
by the Member-owners and maintains the cooperative's autonomy.
5. Education, Training, & Information
Cooperatives provide education and training for Member-owners, elected representatives (board Member-owners), managers, and employees so they can contribute effectively to the development of the cooperative. Member-owners also inform the general public about the nature and benefit of cooperatives.
6. Cooperation Among Cooperatives
Cooperatives serve their Member-owners most effectively and strengthen the cooperative movement by working together through local, national, regional, and international structures.
7. Concern For Community
While focusing on member needs, cooperatives work for the sustainable development of communities through policies and programs accepted by the Member-owners